CIARASCOT™ CLAW BUCKLE INSTALLATION TOOL SET
CIARASCOT™ CLAW BUCKLE INSTALLATION TOOL SET
Repair shoes, baby clothes, curtain, umbrella sheet, bag, clothes, pants, jeans, shirts, absolutely everything with our

  CIARASCOT

™claw buckle.
 
Well Made: Made of strong anddurable steel, which lasts for a long time, making your projects work efficiently.
Easy to Use: You can quickly attach eyelets, snaps, rivets and more with our CIARASCOT™claw buckle 
[Claw Buckle Tool Set]: This snap fasteners kit comes with ergonomic, easy-press pliers, a plastic boxes, and essential accessories to make every job easier. 
[Premium Material]: Not like other plastic snaps which can be broken easily, our snaps fasteners are made of stainless steel that is bright, tough and durable. The hands pressure pliers are made with high-quality ABS, strong and durable.
[Easy To Install]: Simply put a buckle and male button and press with your snap pliers. You will hear a pop sound when the snap fasteners this signals the installation process is complete. 
[Enjoy DIY Making]: A great stitch-free kit for crafting or sewing. It's very sweet to make baby clothing by yourself with our CIARASCOT™ Five claw buckle.Use your ideas to make beautiful arts and crafts as a good gift for people you care about. Suitable for beginners or professionals.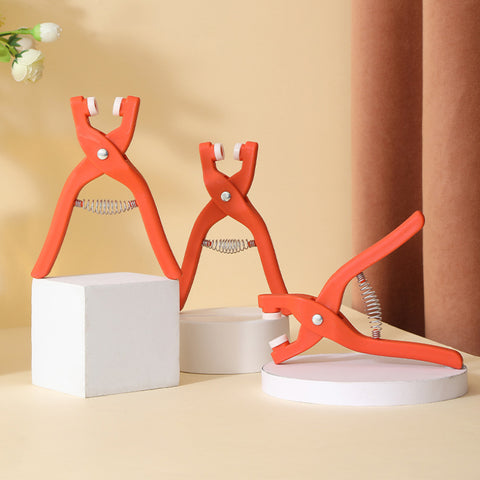 Wide Application: It can quickly and effectively repair or replace broken fasteners for coats, boat covers, tents, canvas, tarps, awnings, sailcloth, patio furniture and swimming pool covers.
Material:  ABS, PE, Plastic


Weight :  120g


Color: Silver/orange 


Size: 9.5*3.5mm
FLAT RATE
400/800

/1200 set

  * claw buckle installation tool set